NEW GTR Rider Scrubber Drier
New model rider scrubber drier packed with new features for improving the safety, maintenance & productivity that our existing models are renowned for around the world.  A natural progression from the ever popular GTX, the GTR has the same heavy duty motors, electronics & components with added practical innovations making the GTR safer & easier to use & maintain.
By choosing the GTR Model, you will be able to use a high powered Ride-On Scrubber Drier to clean your floors. Perfect for a range of floors in various industry premises, the GTR is built using gold-standard components. Using such high-quality parts ensures a huge lifespan.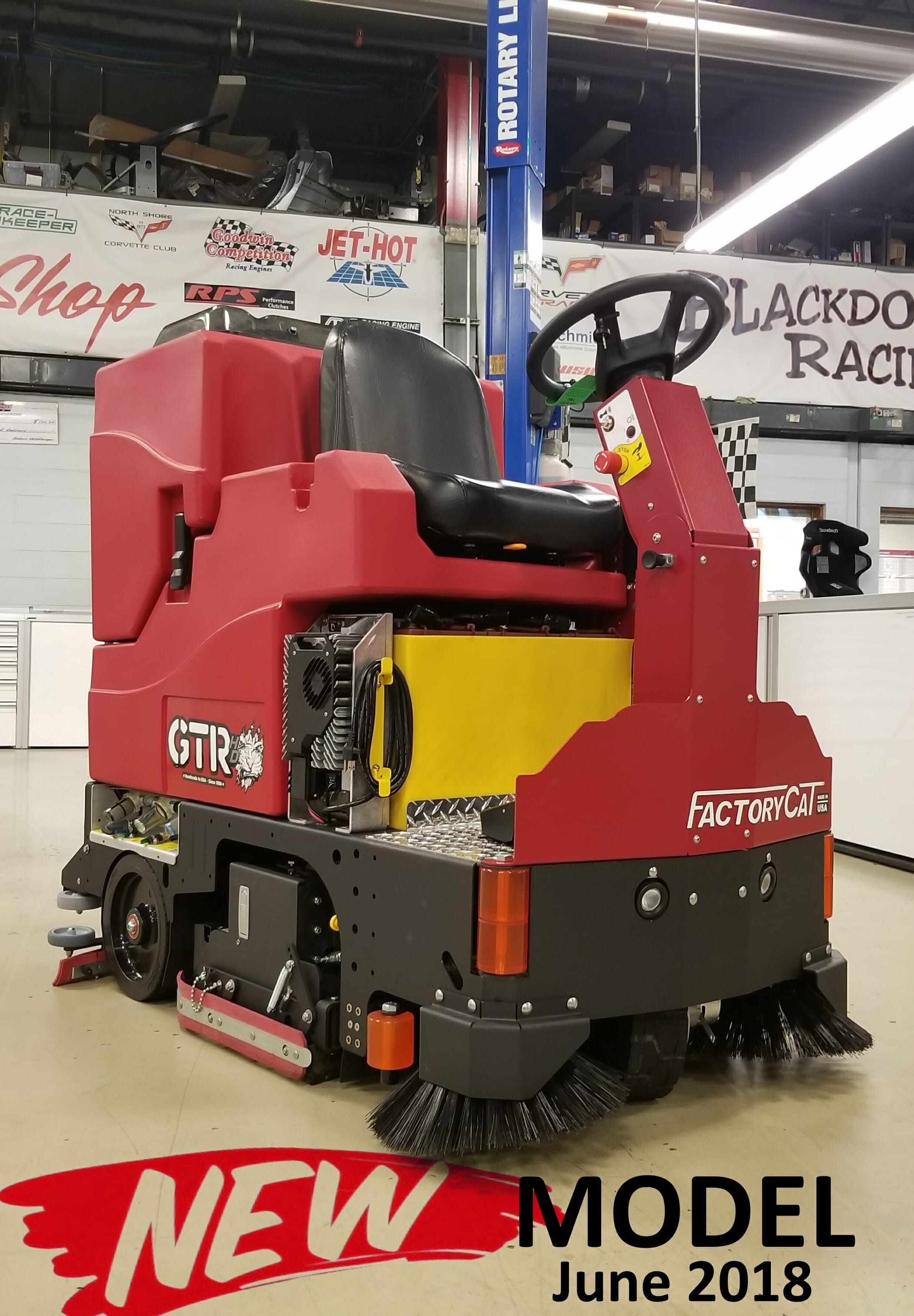 Key Features
Powerful mid-size ride-one that will run a full shift on a single charge
High-power scrubber motors and a powerful actuator for heavy application
Easy-to-use command console with "one touch" button feature
Management "lock out" feature for both brush pressure and solution control
Safety Features
Safety features as standard:
Headlight
Flashing warning beacon
Seat switch
Electric handbrake
Optional safety features:
Retractable seatbelt
Full set of lights
Operator Comfort
Comfortable, high-backed chair
Steering column is fully adjustable
Options
LOCKOUT FOR BRUSH PRESSURE

Establishes a limit on maximum brush pressure, preventing an operator from using excessive pressure

SOLUTION LOCKOUT

Establishes an upper limit on the sweeper's consumption of water and use of solution

SIDE BROOMS

Only available on Ride-on Scrubber Sweepers – the side brooms allow sweeping of edges

HD SIDE DOORS

HD Side Doors help to protect the scrub deck from impacts

SPRAY HOSE ATTACHMENT

This hose is perfect for rinsing brushes, scrubber tanks and squeegees, and is integral to the machine for convenience

SPRAY & VACUUM ATTACHMENT

For cleaning under racking and edges

 BATTERY SELECTION

We have a range of wet and gel type
batteries
Documentation
Video
GTX SCRUBBING BLOCK PAVING
GTX REFURBISHING AN EPOXY FLOOR
GTX CLEANING A CAR PARK
NEW – Service Cabinet
The operator or service engineer can find all the filters and drains in one place, the cabinet is easy to access & is back lit for clear visibility.
Click on image to enlarge
NEW – VACUUM MOTOR PROTECTION SYSTEM
Protects the vacuum motor from water ingress, prolonging the life & reducing service costs
Common Options
For a more bespoke solution to your floor cleaning requirements FactoryCat offer a large range of ad-dons & options. Here you can the most common options, please ask your representative for any specific requirements.
DISC V CYLINDER Ride-on Scrubber Driers
GTX ride-on scrubber driers are available with either the traditional style disc scrub deck or with a cylindrical scrubbing deck which will clean and sweep in one pass, reducing the need to pre-sweep
DISC DECK
The disc style of brush deck is more versatile in the range of tooling available, they can be fitted with a range of brushes in different grades or conventional floor pads, diamond pads/diamond tooling. The disc system is ideal if you would like to maintain the floor to a shine
Ideal for : smooth painted concrete, power floated concrete, terrazzo, marble 
CYLINDER DECK
Cylinder decks can only be fitted with brushes which are available in different grades depending on the application. These are best on rougher floors or where there is a need to scrub and sweep in the same pass.
Ideal for :  non-slip painted, rough concrete, profiled
GTX Disc Quick Specs
| | |
| --- | --- |
| Disc Dimensions | 2 x 38cm, 2 x 43cm |
| Solution Tank | 174 litres |
| Recovery Tank | 185 litres |
| Power | 36v |
| Batteries Standard |  245ah |
| Batteries Optional | 315ah,360ah |
GTX Cylinder Quick Specs
| | |
| --- | --- |
| Cylinder Dimensions | 2 x 73.7cm, 2 x 83.8cm |
| Solution Tank | 174 litres |
| Recovery Tank | 185 litres |
| Power | 36v |
| Batteries Standard | 245ah |
| Batteries Optional | 315ah,360ah |
Let us know how we can help

Please give us a call or use the form below for your enquiry, we will try to get back to you the same day.
Demonstrations:

We have a dedicated team for on site trials & a full compliment of  FactoryCat scrubbers
& sweepers, ride-on & pedestrian. Our team  of experienced demonstrators can either
assess your requirements over the phone or arrange a site survey if  required & then
provide a  demonstration on a suitable machine at a date & time to suit.