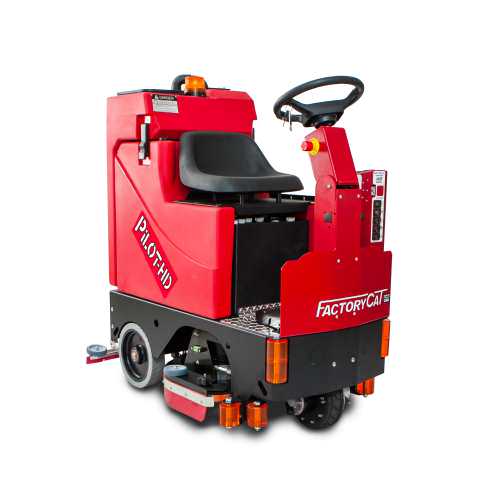 PILOT-HD Micro Rider Scrubber Driers
Ideal for smaller spaces, these rugged, powerful micro rider scrubber driers still maintain their ability to deep clean the dirtiest of floors. Available with either the traditional, versatile disc scrubber deck or the cylinder deck, each of which comes in three widths, the Factory Cat Pilot HD can provide the results and performance needed to make short work of your cleaning jobs. Compact, powerful motors and high-quality construction and components are used all through the PILOT, making sure it performs well throughout its life.
FREE DEMONSTRATION
See the PILOT-HD Micro Rider Scrubber Drier at work on your floor by calling 0800 313 4336 or using our email contact form to arrange a demonstration.
Key Features
Compact powerful micro rider scrubber driers with 36v power
Powerful motors drive the scrubber decks, making the PILOT able to clean the dirtiest floors
Easily-used central command console with "one touch" buttons
"Lockout" feature allows managerial control of brush pressure or solution use
Safety Features
Basic Features:
Forward facing headlights for low-light use
Flashing warning light
Seat switch
Electric safety brake
Advanced Safety Features:
Operator Comfort
Comfortable operator's seat
Adjustable steering controls
Options
BRUSH PRESSURE LOCKOUT

Avoids excessive force use with the scrubber decks

SOLUTION LOCKOUT

Avoids excessive use of cleaning solutions

HD SIDE DOORS

Prevents damage to the brush deck from impacts and knocks

SPRAY ATTACHMENT

Perfect for rinsing off the machine after or during use, and conveniently attached to the machine itself.

SPRAY & VACUUM WAND

Ideal for cleaning difficult-to-reach places.

CHOICE OF BATTERIES

We have a selection of batteries available to suit your needs.
Documentation
Video
Factory Cat GTX at work on the surface of a carpark
DISC SCRUBBER OR CYLINDER DECK?

The PILOT can be provided with a choice of two scrubber deck options – disc or cylinder. But what's the difference?
DISC DECK
Disc scrubbing decks are excellent for smooth, polished flooring and can accommodate a range of fittings and tools. For example, varying grades of brush, scrubber pads, and even diamond tools can be fitted to this machine to suit whatever task you need to accomplish!
CYLINDER DECK
Cylinder decks are excellent for rougher floors, or any conditions in which you may need to quickly sweep and scrub a floor, as their unique engineering allows them to scrub and sweep in the same pass – saving you time and effort!
PILOT-HD Disc Quick Specs
| | |
| --- | --- |
| Disc Dimensions | 1 X 51cm, 2 x 33cm, 2 x 36cm |
| Solution Tank | 83 litres |
| Recovery Tank | 87 litres |
| Power | 36v |
| Batteries Standard | 3 x 12v 175ah |
| Batteries Optional | 3 x 12v 225ah |
PILOT-HD Cylinder Quick Specs
| | |
| --- | --- |
| Cylinder Dimensions | 2 x 56 cm |
| Solution Tank | 83 litres |
| Recovery Tank | 87 litres |
| Power | 36v |
| Batteries Standard | 3 x 12v  175ah |
| Batteries Optional | 3 x 12v 225ah |
Arrange a free demonstration today by calling us on 0800 313 4336.