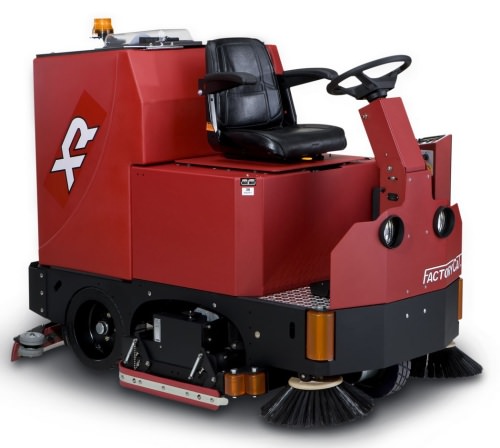 XR Scrubber Sweepers 
XR Rider Scrubber Sweepers & Scrubber Driers give the high performance and cleaning power of the industry's largest equipment, in a much smaller and more convenient package. Able to be fitted with two varieties of high-power scrub deck, each of which can be fitted in three different widths, the XR scrubber sweeper provides the unbeatable results and capacity needed to clean whatever you need. High-power motors and industry gold-standard construction are seen all through the XR, making sure that you get maximum time and work out of this powerful, compact machine.
FREE DEMONSTRATION
If you want to see the XR working on your flooring get in touch on 0800 313 4336 to arrange a demonstration!
Key Features
Large capacity 246 | Solution 295 | recovery tanks allow more cost-efficient use
High-powered scrubber motors drive the scrub decks and an actuator ram helps scrub through the heaviest conditions
Easy, intuitive command console, with "one touch" buttons
Management control "lock-out" features allow executive limits on brush pressure or solution usage
Safety Features
Safety Standard Fittings and Features:
Twin headlights
Flashing signal light
Seat adjustment
Electric parking brake
Optional Fittings:
Retractable seat belt
Overhead guard
Full light kit
Operator Comfort
Adjustable high-backed seat
Adjustable steering column
Options
BRUSH PRESSURE LOCKOUT

Places an upper limit on the actuator applying brush pressure – preventing the operator from using excessive force with the scrubber decks or on your flooring.

SOLUTION LOCKOUT

Places a similar upper limit on water consumption for the machine, preventing overuse.

SIDE SWEEPERS

Turns the edges of the machine into sweepers (available on ride-on scrubber sweepers only).

HD SIDE DOORS

HD Side Doors protect the scrub deck from being damaged in the event of a collision or impact.

SPRAY ATTACHMENT

Makes rinsing out the machine's solution tanks, squeegees and brushes easy and convenient.

SPRAY & VACUUM WAND

Ideal for cleaning hard-to-reach places

RANGE OF BATTERIES

We offer a selection of batteries to suit your needs.
Documentation
Video
XR on T.V
Jack Whitehall driving an XR on Bad Education
XR CLEANING A CAR PARK
The XR scrubber sweeper is seen here using the spray jet attachment to rinse dust from walls.
SCRUBBING DISCS OR BRUSH CYCLINDER?
The XR is available with a choice of either a conventional disc scrubber deck or a scrubbing cylinder, which allows the machine to clean and sweep at the same time, allowing you to make a complete cleaning run in just one pass, and removing the need for a pre-sweeping effort.
WHY CHOOSE A DISC DECK?
This style of brush deck is much more versatile in its capabilities, with a variety of tools available to fit to the disc deck. Different grades of brush can be used for different applications, or conventional floor pads and even diamond scrubbers can be fitted as necessary. If you want to maintain your floor to a fine polished shine, disc decks are ideal.
Most effective with: smooth flooring like painted concrete, tiling, polished stone
CYLINDER DECK
A cylinder deck has less tool versatility than a disc deck, since it can only be fitted with a variety of brushes. However, its ability to sweep and clean at once makes it perfect for rough floors or in areas with very fast turnaround.
Most effective with: non-slip flooring, rough stone or concrete, profiled flooring
XR Disc Quick Specs
| | |
| --- | --- |
| Disc Dimensions | 2 x 43cm, 2 x 51cm, 2 x 58cm |
| Solution Tank | 246 litres |
| Recovery Tank | 295 litres |
| Power | 36v |
| Batteries Standard | 6 x 6v 325 |
| Batteries Optional | 18 x 2v Ind 400ah |
XR Cylinder Quick Specs
| | |
| --- | --- |
| Disc Dimensions | 2 x 81cm, 2 x 97cm, 2 x 112cm |
| Solution Tank | 246 litres |
| Recovery Tank | 295 litres |
| Power | 36v |
| Batteries Standard | 6 x 6v 325 |
| Batteries Optional | 18 x 2v Ind 400ah |
See a scrubber sweeper on your floor – just call us on 0800 313 4336 or use our email contact form!