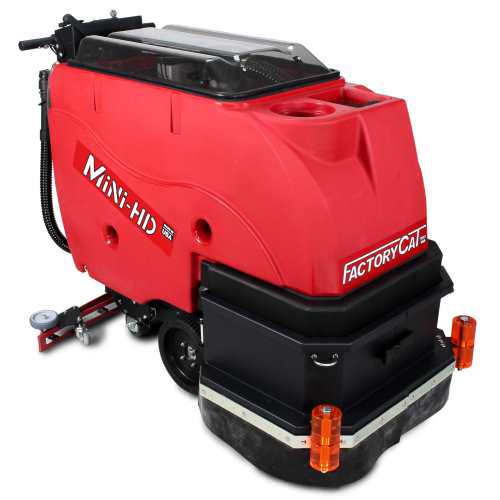 MINI-HD SCRUBBER DRYER
Mid size walk-behind scrubber driers with large capacity tanks and unrivalled cleaning power, these machines are simple to use and maintain, and are available with a choice of disc scrubber decks or cylindrical decks, each of which comes in one of three width choices. The Factory Cat MINI-HD provides the power and longevity needed to quickly and effectively clean industrial floors fast. Heavy duty electrical motors and high-quality construction makes sure you get the most out of your machine every time you use it.
FREE DEMONSTRATION
You can see the MINI-HD working on your own floor by contacting us on 0800 313 4336.
Key Features
Easy access tanks with either 61 or 80 litre capacity
High-performance scrub motors with actuator for powerful cleaning
Easy-to-use ergonomic controls with central command
Management "lockout" feature for brush pressure and solution wastage
Twin speed disc motors
Safety Features
Standard Features:
Reversing beeper alarm
Emergency cut off button
Optional Safety Features:
Manual handbrake
Forward movement alarm
Operator Comfort
Easily adjusted removable squeegee
Ergonomic controls
Convenient brush change
Easy-to-clean tanks
Options
BRUSH PRESSURE LOCKOUT

Prevents excessive use of force on the brushes

SOLUTION LOCKOUT

Prevents wastage of cleaning solution

DIAMOND POLISHING DISC KIT

Easily and flawlessly polish concrete, marble and tiling with the MINI-HD

MANUAL PARKING BREAK

SPRAY HOSE

Ideal for quick rinsing work

SPRAY & VACUUM WAND

Perfect for cleaning under immovable objects

 BATTERY RANGE

We have a wide variety of batteries available to choose from
Documentation
Video
GTX working on the surface of a car park
DISC VERSUS CYLINDER

The MINI-HD walk-behind scrubber driers are available with a choice of disc scrub deck or cylindrical scrub deck. The strengths and weaknesses of each kind of scrubbing deck are listed below.
DISC DECK
Disc brush decking is much more of an all-rounder when it comes to cleaning, able to sport a number of brush attachments, scrubbing discs and diamond tools to clean and polish a floor to perfection. This system is ideal for cleaning and polishing smooth floors like marble and polished concrete.
CYLINDER DECK
A cylinder deck only works with brush attachments, so scrubber discs and diamond tools are not available. However, cylinder decks are able to sweep and scrub at the same time, allowing them to fully clean a floor in one pass without any pre-sweeping. More ideal for non-slip flooring and rough concrete, this time-saving machine can quickly clean to an excellent standard.
MINI-HD Disc Quick Specs
| | |
| --- | --- |
| Disc Dimensions | 2 x 33cm, 2 x 36cm |
| Solution Tank | 61 or 80 litres |
| Recovery Tank | 64 or 87 litres |
| Power | 24v |
| Batteries Standard | 4 x 215ah |
| Batteries Optional | 4 x 245ah |
MINI-HD Cylinder Quick Specs
| | |
| --- | --- |
| Cylinder Dimensions | 2 x 58cm, 2 x 69cm |
| Solution Tank | 61 or 80 litres |
| Recovery Tank | 64 or 87 litres |
| Power | 24v |
| Batteries Standard | 2 x 6v 210ah |
| Batteries Optional | 2 x 245ah |
Let us know how we can help

Please give us a call or use the form below for your enquiry, we will try to get back to you the same day.
Demonstrations:

We have a dedicated team for on site trials & a full compliment of  FactoryCat scrubbers
& sweepers, ride-on & pedestrian. Our team  of experienced demonstrators can either
assess your requirements over the phone or arrange a site survey if  required & then
provide a  demonstration on a suitable machine at a date & time to suit.