Industrial Floor Scrubbers & Sweepers
Factory Cat industrial floor scrubbers & sweepers are built tough for industrial applications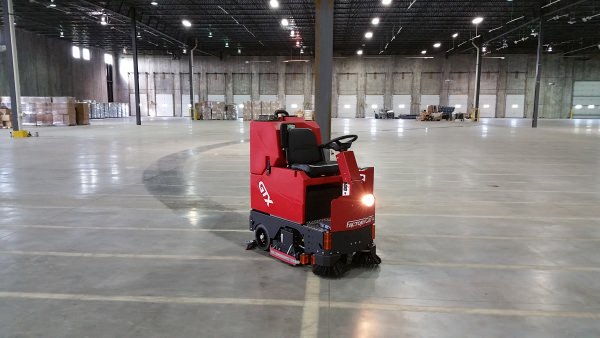 CLEAN WAREHOUSES
The Factory Cat range of industrial floor scrubbers & sweepers in walk-behind or ride-on versions are ideal for cleaning warehouses. The scrubber sweepers have the ability to pick up small amounts of debris while scrubbing, reducing the cleaning time.  Our customers are also making use of the machines maneuverability to clean trailers while on the loading dock.
Cold Storage
For warehouses with cold storage our models have the option of a "freezer pack" to keep them running in this harsh environment.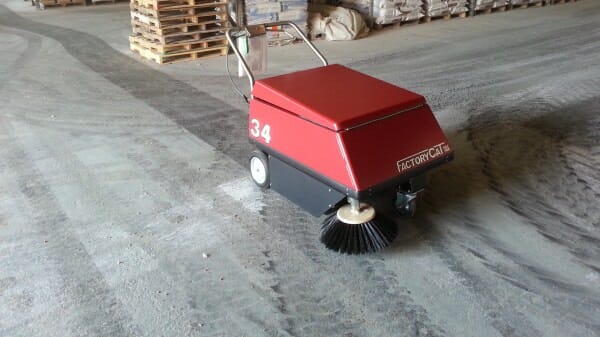 CLEAN BULK PACKAGING STORES
Bulk packaging accounts that deal with volumes of powders are unique in the amount of unwanted dust generated in the mixing & manufacturing process. Factory Cat sweepers have a unique "baghouse" filter, which has many times the filtering capacity of the more commonly used paper panel filters. Our filter material last many times longer than paper, in most cases the life of the machine, saving time and money on frequent replacement.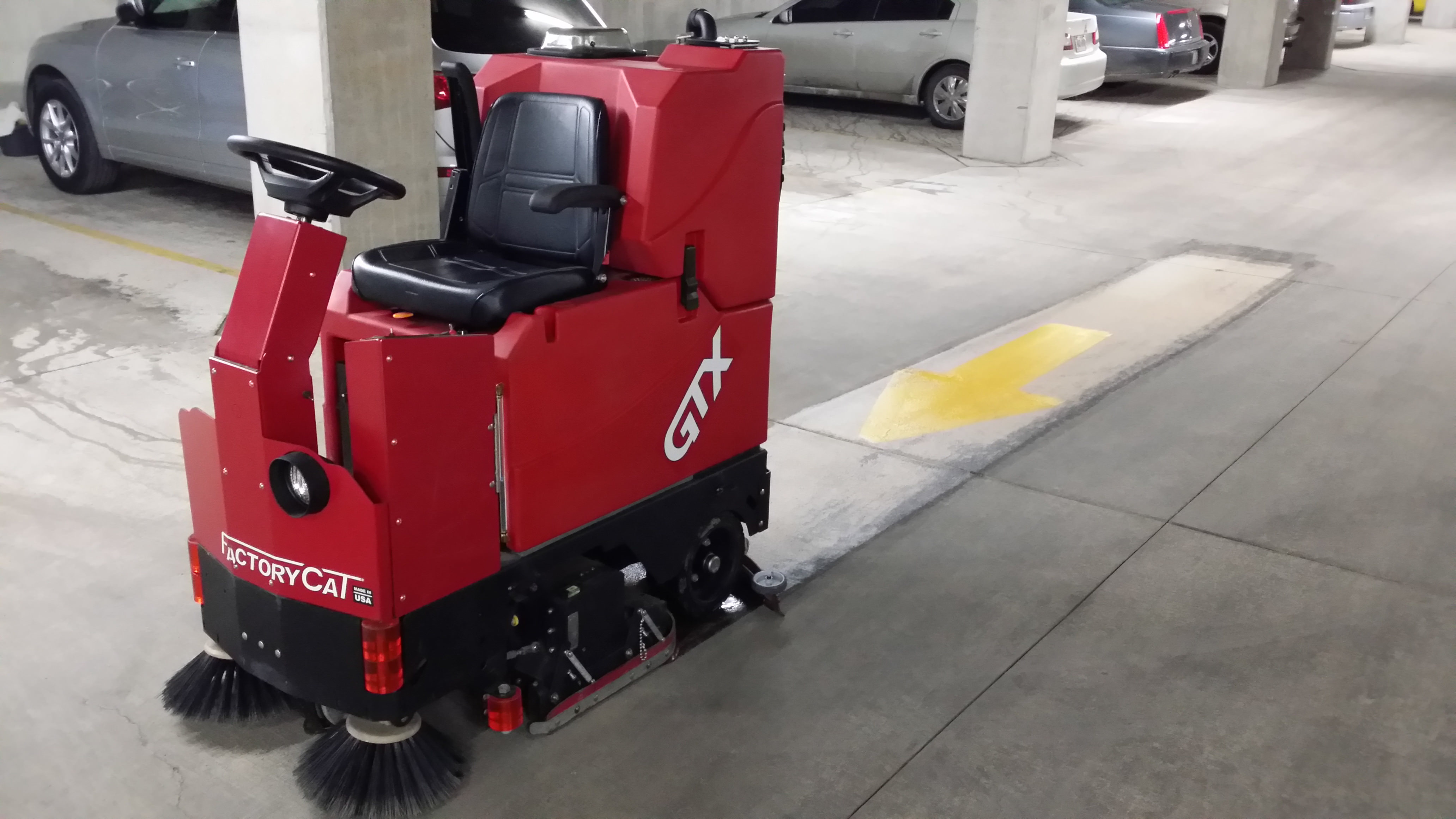 MULTI STORY CAR PARKS
With customers demanding higher standards of safety and cleanliness in car parks, many now have non-slip painted bays and walkways. Traditional methods of cleaning with a pressure washer are noisy, messy and time consuming. For a more environmental approach scrubber driers can be used to maintain floors to a high level of cleanliness. This process  uses much less water, reducing the secondary cleaning and the noise.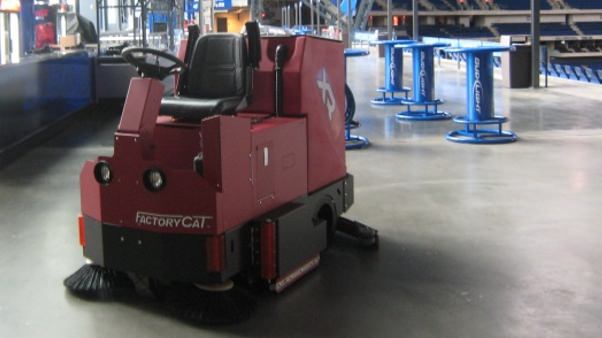 CLEAN SPORTS STADIUMS
Sporting venues are notoriously difficult to clean, often they have to be turned around in a short space of time leaving a small widow of opportunity for cleaning. Factory Cats industrial floor scrubbers and sweepers are highly productive, giving the results & reliability required for this high pressure environment.
CLEANING AIRPORT FLOORS
Leaving floors clean, safe and totally dry is essential in public areas through out an airport. All FactoryCat scrubber driers have powerful scrub & vacuum motors to first clean and then pick up the effluent in a single pass, leaving the floor safe, dry & ready to use.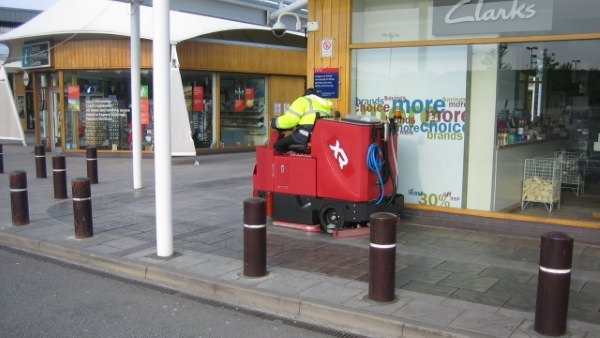 CLEANING SHOPPING CENTERS
Cleaning contractors are now using scrubber driers to clean pedestrian areas in and around retail parks. Giving better productivity than pressure washing, scrubber driers use less water, makes less noise & do not create secondary cleaning problems.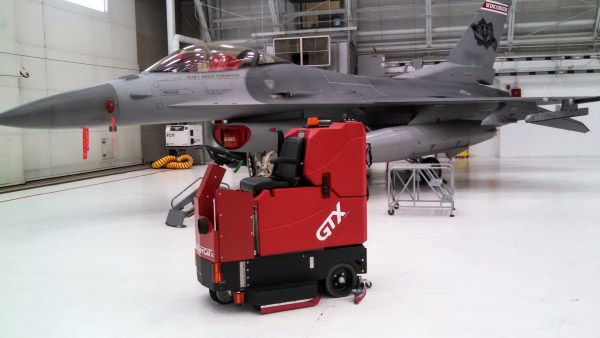 CLEAN AIRCRAFT HANGARS
Our industrial floor scrubbers & sweepers are perfect for cleaning aircraft hangars. With the ability to scrub clean and sweep small amounts of debris in one pass which will reduce the risk of costly F.O.D (foreign object damage). The cylinder scrubbing & sweeping system is available in both pedestrian and rider versions.
Models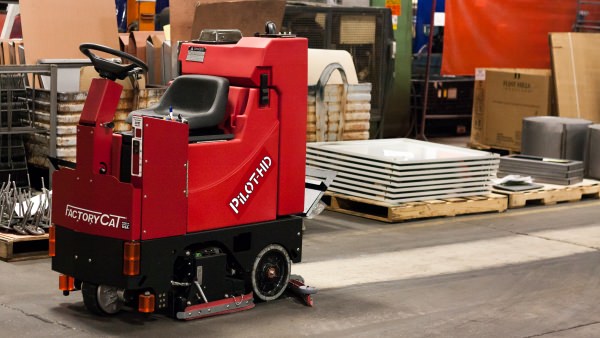 CLEAN FACTORY FLOORS
Factorycat's are designed for use in industrial applications, factories & manufacturing. For large area cleaning we have a range of different sized ride-on machines, for smaller areas walk-behind models. All our models are built with the same ability to clean the toughest of environments. We have two different brush styles and a range of tools to enable the efficient cleaning of all hard floor types.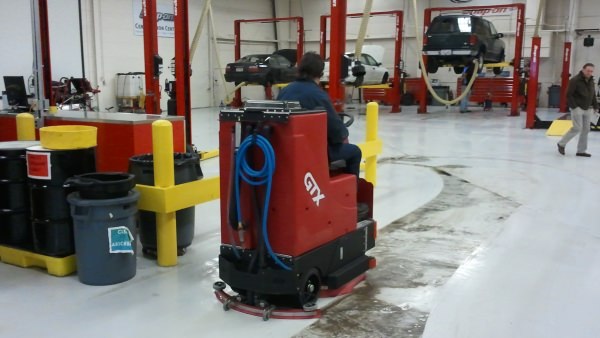 CLEAN GARAGE FLOORS
FactoryCat scrubber sweepers are available in ride-on or pedestrian models, both have the power required to clean garage & workshop floors. The cylinder style brush system is better at cleaning non-slip, rough painted or profiled floors. For front of house cleaning a disc model maybe required for the more diverse floor coverings now seen in car showrooms.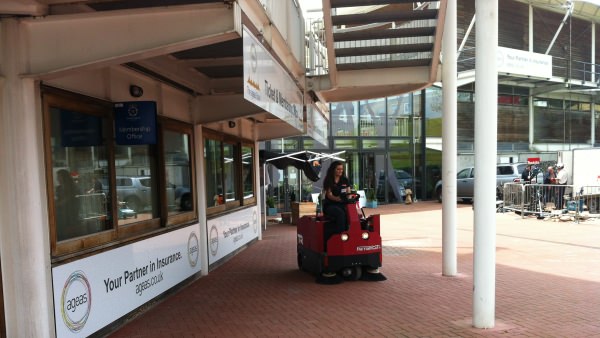 CLEAN PUBLIC BUILDINGS
Battery powered floor cleaning equipment is now being more commonly used to clean the outside areas in municipal buildings. Traditional pressure washing techniques use a lot of water, generate high levels of noise, can damage hard surfaces & are time consuming. Floors in common areas in and around buildings can be maintained to a high level of cleanliness using battery powered scrubber driers & sweepers, reducing water consumption and noise to acceptable levels.
DIAMOND POLISHING FLOORS
Our disc model ride-on & pedestrian scrubber dryers are available with a diamond polishing package. Upgraded brush motors with a higher R.P.M at the flick of a switch, which make the machines more productive & give outstanding results when polishing natural stone, terrazzo or concrete floors.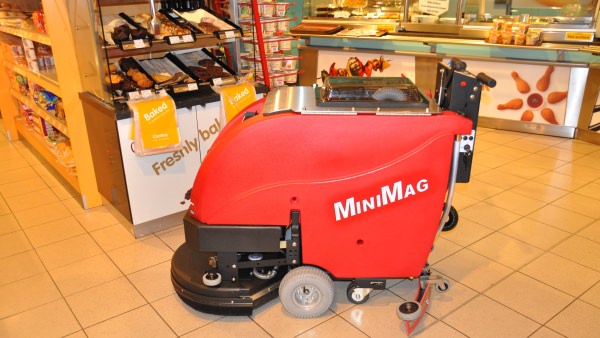 CLEANING SHOP FLOORS
Factory Cat's scrubbers ability to scrub & leave floors dry and ready to use is invaluable in shops & retail environments. This is a big benefit where the window of opportunity is often limited.
Our twin speed disc scrubber polishers can also be used to diamond polish terrazzo or concrete floors. They can then maintaining the shine, saving the need to employ professional services.