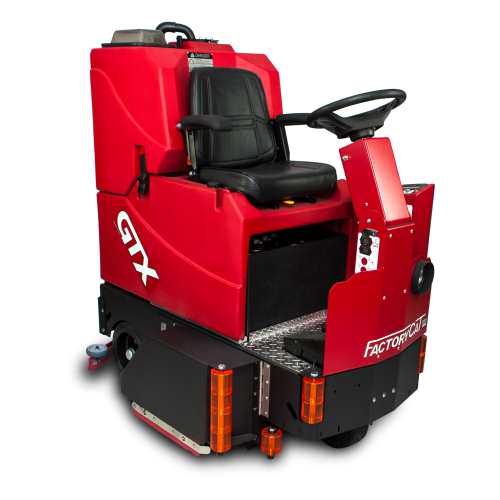 Aircraft Hangar Floor Scrubbers and Sweepers
In order for it to be deemed both safe and effective, the flooring in an aircraft hangar must possess certain characteristics. For example, it should demonstrate excellent tensile strength and reflectivity and be resistant to chemicals and abrasion. It also needs to be kept clean and free of foreign objects at all times, ensuring the safety of aviation staff and preventing damage to the aircraft itself.
This is where hangar floor cleaning machines, such as the industrial scrubbers and sweepers available at Factory Cat UK, can be of use – scrubbing the floor clean and sweeping away debris in one fell pass. Not only will these machines improve the appearance of the hangar, but they also remove small parts from the floor's surface and help to prevent any potentially dangerous (and costly!) damage to the vehicle.
All of our industrial floor scrubbers and sweepers are designed to achieve the best possible results, in the harshest of environments – making them the perfect option for a wide range of sectors and applications, including aircraft hangar cleaning. We currently stock two suitable collections, including pedestrianised walk-behind scrubber sweepers and ride-on scrubber sweepers, and each individual model is built with a sturdy steel construction, powerful motors and heavy-duty brushes.
Contact Factory Cat for aircraft hangar cleaning equipment
If you would like to protect the safety of yourself, your staff and your aircraft whilst inside the aircraft hangar, an industrial floor scrubber or sweeper is a worthwhile investment. So why not browse the collection today, see how our
hangar floor cleaning machines
could be of benefit to you – and, if you have any questions, please feel free to
get in touch
.
Either call us today on 02380 617129 or send an email to info@elansalesltd.co.uk and we will respond as soon as possible.