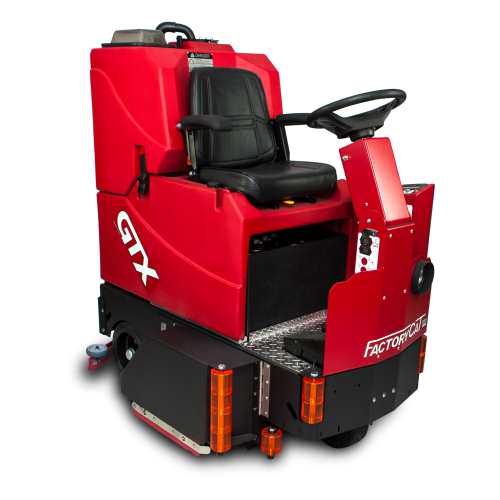 Car Park Cleaning Equipment
Whether you're the owner of a corporate office building or the manager of a commercial shopping centre, image is everything. It's important to maintain all areas of the premises, including the car park! Not only is this the first thing people will see when they visit your business, but it also needs to uphold strict health and safety standards – and, as such, an effective car park floor cleaning routine is essential.
Traditional methods of cark park cleaning (e.g. using a pressure washer) are notorious for being noisy, messy and incredibly time-consuming. They also use a large volume of water and can become expensive over time. By contrast, industrial car park cleaning machines – such as those available at Factory Cat – offer a quick, effective and economical alternative, with impressive results.
All of our industrial scrubber dryers are manufactured from the highest quality components and built to last in harsh environments. Both ride-on and walk-behind models are available, in a variety of different sizes and scrub widths, and each model is capable of cleaning dust and debris across a large surface area. Whatever the size of your car park, whether it's single-storey or multi-storey, our cark park scrubber dryers will make light work of an otherwise laborious and difficult job.
Invest in your car park cleaning machine today!
Car park cleaning
doesn't have to be difficult and, with the help of our
car park cleaning equipment
, your premises will be looking spick and span in no time at all. Such equipment is suitable for a diverse range of settings and
sectors
. So why not browse the full collection today and, if you have any questions, please feel free to get in touch. Either call us today on 02380 617129 or email
info@elansalesltd.co.uk
.