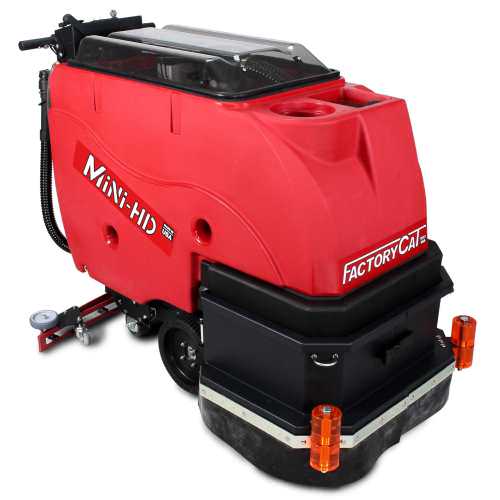 MINI-HD SCRUBBER DRYER
Mid size pedestrian scrubber driers with large capacity tanks and unrivaled cleaning power, Simple to use and maintain with two types of high performance scrub deck, each available in three scrub widths. The Factory Cat MINI-HD offers the power and capacity required to clean industrial floors fast.  Heavy duty motors & the best quality components available are used throughout the MINI-HD ensuring the machine has a long productive life.
FREE DEMONSTRATION
See the MINI-HD on your floor

 
Call 0800 313 4336
Key Features
Easy access tanks with either 61 or 80 ltr capacity
Powerful scrub motors and actuator for heavy duty applications
Simple to use erganomic cotrols with central command
Management "lock out" feature on brush pressure and solution control
Twin speed disc motors
Safety Features
Standard Features:
Reversing bleeper
Emergency cut off button
Options:
Manual parking brake
Forward melody bleeper
Operator Comfort
Easy adjust breakaway squeegee
Ergonomic control panel
Simple brush change
Easy clean tanks
Options
BRUSH PRESSURE LOCKOUT

Prevents the operator using excessive
brush pressure.

SOLUTION LOCKOUT

Reduces water consumption

DIAMOND POLISHING PACKAGE

Polish concrete and terrazzo with the MINI-HD

MANUAL PARKING BREAK

SPRAY ATTACHMENT

Ideal for rinsing tanks, brushes & squeegees

SPRAY & VACUUM WAND

For cleaning under racking and edges

 BATTERY SELECTION

We have a range of wet and gel type
batteries
Documentation
DISC V CYLINDER
The MINI-HD pedestrian scrubber driers are available with either the traditional style disc scrub deck or with a cylindrical scrubbing deck which will clean and sweep in one pass, reducing the need to pre-sweep
DISC DECK
The disc style of brush deck is more versatile in the range of tooling available, they can be fitted with a range of brushes in different grades or conventional floor pads, diamond pads/diamond tooling. The disc system is ideal if you would like to maintain the floor to a shine
Ideal for : smooth painted concrete, power floated concrete, terrazzo, marble 
CYLINDER DECK
Cylinder decks can only be fitted with brushes which are available in different grades depending on the application. These are best on rougher floors or where there is a need to scrub and sweep in the same pass.
Ideal for :  non-slip painted, rough concrete, profiled
MINI-HD Disc Quick Specs
| | |
| --- | --- |
| Disc Dimensions | 2 x 33cm, 2 x 36cm |
| Solution Tank | 61 or 80 litres |
| Recovery Tank | 64 or 87 litres |
| Power | 24v |
| Batteries Standard | 4 x 215ah |
| Batteries Optional | 4 x 245ah |
MINI-HD Cylinder Quick Specs
| | |
| --- | --- |
| Cylinder Dimensions | 2 x 58cm, 2 x 69cm |
| Solution Tank | 61 or 80 litres |
| Recovery Tank | 64 or 87 litres |
| Power | 24v |
| Batteries Standard | 2 x 6v 210ah |
| Batteries Optional | 2 x 245ah |
See one of our pedestrian scrubber driers on your floor – Call 0800 313 4336 or email us with this form
For a free demonstration or more information